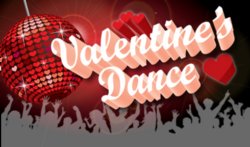 What

HMS Valentine's Dance

When

2/9/2018, 6:00 PM

–

8:00 PM

Where

A GYM Shirley Hall Middle School
Valentine's Dance, Friday, February 9 from 6pm to 8pm in the A Gym. Cost is $5 per ticket. There will be a photo booth where you can purchase photos for $1.00. Also, a concession stand will be available where everything will be $1.00; including pizza. Come dance the night away. Ticket Sales coming soon. Sponsored by HMS Cheer!

******** Valentines Dance Update************

1.Tickets on sale at lunch for $5.00 each. Buying your ticket before Friday Night at the door, includes you in a drawing for prizes.
2. Dress code applies.
3. A ticket without the buyers name written on it will not be accepted at the door.
4. Tennis shoes only will be allowed in the gym. If you aren't planning on wearing or bringing tennis shoes; Be prepared to remove your shoes to dance on the gym floor. While we want to have a fun and safe dance; we do not want to damage the wood floor with street shoes. We will have a place for shoe storage.
5. ALL students must have a ride waiting for them at 8pm.
6. If you leave you may not re-enter.