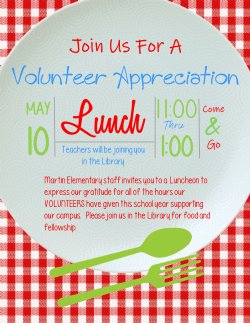 What

Volunteer Appreciation Lunch_ Join Us

When

5/10/2019, 11:00 AM

–

1:00 PM
Calling all Volunteers:

Martin Elementary staff invites you to a Luncheon to express our gratitude for all of the hours our VOLUNTEERS have given this school year supporting our campus. Please join us in the Library for food and fellowship.


If you have volunteered for us this school year: classroom, office, cafe, PTA, carnival, Musical, field Trip chaperone, or brought wonderful lunch for the staff, please join us for lunch in the Library so we can say, "Thank you". Lunch times start at 11:00 and run through 1:00, (Come & go as your time allows). The teachers/staff will be joining you during their lunch time as well. Please look for the Skyward "FAST PASS" to sign up.